December 6 2010
2
06
/

12
/

December
/

2010
08:54
Here is a really good drawing by Lucile A., a year-10 pupil from Buvignier high school in Verdun. Congrats!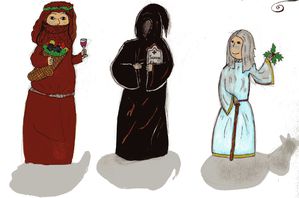 Who the dickens are these?
Congrats Jonathan! They are the 3 spirits who visit Scrooge on Xmas Eve.
The Ghost of Xmas Present is on the left. The Ghost of Xmas Yet to Come (= the Ghost of Xmas Future) is in the middle and the Ghost of Xmas Past is on the right.