November 30 2008
1
30
/

11
/

November
/

2008
17:52

Today is
Saint Andrew's day
.
Saint Andrew is the
patron saint of Scotland
and St Andrews Day is celebrated on November, 30th each year in Scotland and by Scottish people around the world.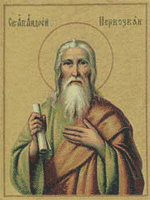 Andrew was one of the 12 Christian apostles and a fisherman like his father and brother.
He was crucified in Greece because he was a Christian. He was tied to an X-shaped cross and died 2 days later, still preaching the Gospel.
Saint Andrew's cross
has become the
Scottish national flag
and is part of the Union Jack.