May 7 2009
5
07
/

05
/

May
/

2009
13:00
Paul Revere and the Raiders
is an American rock band which had enormous success in the second half of the 1960's and early 1970's.
Indian Reservation, the Lament of the Cherokee Reservation Indian is the Raiders' biggest hit. You'll find the lyrics are on page 61(New Live 3e).
The song refers to the forced removal and relocation of Cherokee people from Georgia to Oklahoma. This removal in the 1830's is known as the "Trail of Tears." (New Live 3e page 60)
THE TRAIL OF TEARS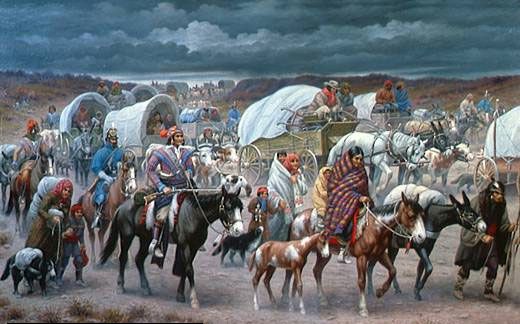 Painting by Robert Lindneux
Courtesy of Woolaroc Museum, Oklahoma
It followed the Indian Removal Act of 1830. This action was part of a larger United States policy of Indian removal.
Cherokee men, women and children had to leave their homes and walk a thousand miles. They had little food.
The song became #1 on the U.S. chart on July 24, 1971. The Raiders sold over a million copies.
Here's a video :
LA PISTE DES LARMES

Here's another interesting video in French, this time!


How many Cherokees died during the winter ?